The future for Radio London...
What does the future hold for Radio London?
Well, having proved that we can recreate the great Radio London sound faithfully and accurately on 4 RSL broadcasts and around the world on our Merlin Shortwave broadcast in August 1998. The future for Radio London could take us now in a number of different directions and we are seeking partnerships, investment, management advisors to consider the following options:-
A Full Time Radio London on Medium Wave?
As things stand now, we could acquire a high power AM frequency on the continent, possibly Holland or France and beam a signal into the South East of England. This could be achieved in a relatively short period of time, however the cost is likely to be in the region of £2-£3 million. Alternatively, we could buy Capital Gold and other outlets on AM around the UK and re-brand the output as RADIO LONDON. This is likely to cost at least £30 million, and an audience already exists for this type of music on their frequencies.
A Full Time Radio London on SKY digital and the web?
This would provide a relatively low cost start, with little or no Radio Authority hoops and hurdles to jump through. A simple cable and satellite licence (less than £2,000) plus an agreement with SKY, an uplink provider, epg agreement, plus PPL & PRS licences is all that is needed. All this could be put together for under £100,000 and say, another £250,000 to run the operation and sustain the station for 12 months. Listening figures on SKY can be quite good, with over 10 million people capable of tuning in, but limited to listening through a TV set.
A Full Time Radio London on WORLD SPACE tm?
WORLDSPACE is a satellite broadcasting company which has almost world wide coverage, but listeners have to listen on a special digital radio which must be placed near a south facing wall. Quality is superb and the radios currently retail for under £100. There is talk that they will be available for less than £50 in the near future with car radios and other formats becoming available. Already some 20 - 30 stations are transmitting and certain engineers in radio believe that WORLDSPACE could become more popular than the UK's DAB which has got off to a bad start with some countries in Europe abandoning tests. Radio London could start on this platform for about the same costs as detailed in the SKY digital costings above and it would be idea to possibly combine the two and transmit on both formats.
A Full Time Radio London on Digital Terrestrial Broadcasting DAB?
A number of stations have already taken up DAB opportunities around the UK and multiplexers are still being advertised and awarded. Radio London could move onto this platform. However, take up of digital radios is believed to be at a very low level. However, this is one to watch to see whether the uptake improves. Costs will be similar to the SKY proposal above, but at this time it is not recommended.
But....Is there really a need for this type of Radio?
Well, we think so, judging by all your e-mails, letters, and phone calls. You seem to like the fact that we play some songs that the other gold stations don't play, that we talk between each link, our presenters have more personality. A lot of you seem to be very disappointed with Classic Gold and Capital Gold, programming which is produced by GWR and Capital respectively. Most of you seem to think their style is dull and lacks enthusiasm and atmosphere. A full time RADIO LONDON would probably appeal to both these audiences.
Have we received any negative comments?
Yes, but only a tiny amount, one of two people find our style dated and a little tired in the twenty-first century. This we can understand. You must consider that the way we have programmed Radio London is for authenticity, the fact that you listened to the latest Beatles and Beach Boys songs back in 1966, and you probably enjoy hearing them just as much today as you did then! Then why not hear them with the original Jingles and Deejay style of the day! This Radio London achieves perfectly every time.
So, What do we do now?
Having completed 4 RSL's and the Merlin Broadcasts, we do not really want to do any more RSL's. Why? Firstly, they are costly, only one broadcast has made a profit. Why should a radio station as good as Radio London become an annual, 1 watt seaside end-of-pier attraction? No, we do not think so. Radio London is worthy of more than that! We want to hear your comments from the preceding views expressed to us. Tell us what you think? Whether you can offer any advice or assistance and whether you would consider an investment in RADIO LONDON?
Thanks for reading RAY ANDERSON
E-mail investment@bigl.co.uk or write to:-
Ray Anderson, Studio House, 21-23 Walton Road, Frinton-on-Sea, Essex
CO13 0AA
Mail Only
or call 07774 801945
Let's work together to ensure that Radio London emerges as a national 'Gold' formatted radio station bringing 'Fun Radio' with the enthusiasm and excitement which is so lacking from today's radio stations to the UK.
Broadcaster and media consultant John Ross-Barnard has been offered the position of Chairman in the new Big L.
We are pleased to report that Radio London has had overwhelming support from all sectors of the broadcast industry, many past employees of Radio London support our aims and we acknowledge the following who have assisted us over the last four years:-
Tom Danaher, Mrs. Don Pierson, Grey Pierson, Keith Skues, Duncan Johnson, Pete Brady, Ed Stewart, Tony Brandon, John Edward, Ian Damon, Ben Toney, Philip Birch, Alan Keen, Dave Cash, Chris Denning, Eddie Blackwell, Dave Hawkins, John Peel, Dennis Maitland, Tommy Vance & Mitch Philistin.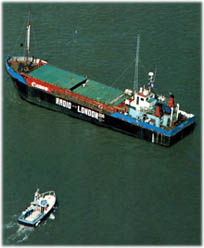 FREQUENCY INFORMATION
www.bigl.co.uk