THE ORIGINAL RADIO LONDON
1964 - 1967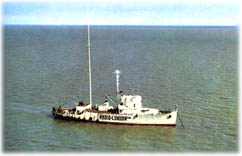 Radio London was set up by a consortium of Texan businessmen who, because of the initial success of Radio Caroline, felt that they could do better and purchased an ex-World War II mine sweeper, re-named it the m.v. Galaxy and fitted it out in Miami with a powerful 50 kilowatt transmitter and aerial mast 212 feet tall (23 feet higher than Nelson's Column). By Christmas 1964 Radio London was on the air and moored just three and a half miles off Frinton-on-Sea in Essex and within weeks the station had attracted a considerable audience in the south east of England broadcasting on only 17 kilowatts.
The managing director of Radio London, Mr. Philip Birch had gained a considerable amount of experience in the USA with advertising agencies and particular expertise in marketing and put together a highly successful sales team who were able to sell Radio London to many high profile companies at the time and clients like Colgate-Palmolive, Camp Coffee, News of the World, Heinz, Bulova Watches etc., all signed lucrative advertising contracts. Coupled with the sales success, the great on-air sound from the deejays and, new to the UK, the first ever package of specially written jingles from the leading Dallas based jingle company - PAMS. These jingles were very slick, memorable and catchy and slogans like "It's smooth sailing with the highly successful sound of Wonderful Radio London" soon caught on and many became as familiar as a top ten hit of the time. This combination of good marketing and a terrific on-air sound catapulted Radio London into the lead of all the offshore stations of the day. It became the station listened to by the music industry based in London and pop stars, and groups of the day. Everyone listened to "The Fabulous Forty Show" the weekly chart show which was designed to be weeks ahead of the national chart used by the BBC.
Radio London was finally beaten when the labour government of the day finally introduced legislation to outlaw all the offshore "pirate" radio stations. The Marine &c., Broadcasting (Offences) Act 1967 came into force at midnight on August 14th 1967. One by one all the stations closed down, only Radio Caroline North and South ships (one off the Isle of Man and the other off Frinton-on-Sea) continued in defiance of the law. Radio London closed down at 3.00pm on the Monday afternoon of the 14th. The final hour was a moving tribute in which many stars paid their last respects including, Cliff Richard, Mick Jagger, Dusty Springfield, Bruce Johnston of The Beach Boys and Ringo Starr. All the deejays were mobbed at London's Liverpool Street station when they arrived off the ship for the last time by 1500 free radio supporters who according to reports - went wild! As a result of the sixties offshore radio stations we now have Radio One and Commercial Radio in the U.K.
SOME OF THE ORIGINAL RADIO LONDON DJ's
| | |
| --- | --- |
| Tony Windsor | Paul Kaye |
| Pete Brady | Kenny Everett |
| Earl Richmond | Dave Dennis |

Last updated 2001 © RADIO LONDON