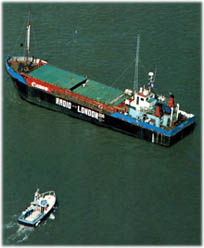 "RADIO LONDON RETURNS"
Yes, the big news is that RADIO LONDON - BIG L continues on the world wide web with our archive material. Now that we have our web stream in place, it seems crazy that we should not keep some of our programmes on-air so that our many fans around the world can stay tuned to BIG L.
We received a record number of listeners on the web, nearly 30,000 listeners. It is likely that we will be voted the No 2 station on 365. Watch this space in the next few weeks. Plans are in hand to take us to the No 1 spot. We now have some investment pledged to bring back Radio London full time. The money must be used wisely, the station must be run profitably within 6 months and we are currently negotiating and evaluationg proposals with various broadcast opportunities that are available to us. If you would like to invest with us and be part of our proposals, which must be the most exciting opportunity in radio today. As someone said resently "It's like restarting THE BEATLES" Have a look at our investment proposals and let us know now if you wish to get involved.
Our web stream will include archieve programmes from the sixties, from our 4 RSL broadcasts and our highly succesful Merlin Shortwave broadcasts during 1998. Lots of programmes which will continue to bring a lot of listeners.
So, until BIG L is back full time, we would like you to listen to some archive. Regular programmes will hopefully resume soon.
BIG L TEL NO 0777 4 80 1945
INTERNATIONAL TEL NO 44 777 4 80 1945
So tune in, watch this space and tell a friend about
RADIO LONDON - BIG L in 2001


PRESS RELEASE AND INFORMATION PACK
Radio London is today announcing plans to commemorate the closedown of the offshore radio station WONDERFUL RADIO LONDON by broadcasting a special 28 day tribute from Clacton-on-Sea, Essex - Close to the original mooring of the Radio London ship between 1964 and 1967. During 4th August and 31st August this Summer. (Dates are inclusive). The broadcasts will be heard on 266 metres - 1134 kHz medium wave and on the World Wide Web and are in response to public demand following the success of our highly acclaimed Radio London broadcasts in 1997.
Radio London have obtained from The Radio Authority a special event 28 day licence which will allow us to recreate the great sound of "Wonderful Radio London". Event organiser - Ray Anderson says: "This is a great Opportunity to bring back the sound of Big L which was loved and adored by over 12 million listeners in the UK and a further 4 million on the continent. Radio London, probably became the most successful commercial radio station in the world attracting a huge audience which many of today's commercial broadcasters would envy".
Radio London was very instrumental in giving many of the top groups of the day airplay and played an important part in the development of the UK music scene. Artists like Tom Jones, Edwin Starr, Ike & Tina Turner and groups such as The Small Faces, The Beach Boys, The Tremeloes, The Kinks and The Who owe much of their success to Radio London, as do many of the deejays who went on to further their careers like Tony Blackburn, Ed Stewart, Keith Skues, Tony Brandon, Tommy Vance, it also gave Kenny Everett his start in Radio and provided a platform for John Peel to experiment with a show called `The Perfume Garden' which has become a cult legendary programme. John is still regarded as one of the most innovative, contemporary broadcasters of his generation and this year he celebrates 33 years at the BBC, an achievement that no other disc jockey has been able to equal. Radio London was the first radio station in the world to play The Beatles "Sergeant Pepper's Lonely Hearts Club Band" LP plus many other exclusives on many of the hit songs of the day including "A Whiter Shade of Pale" by Procol Harum. Radio London was the in radio station of the sixties and very much a part of the British music scene.
WHAT WE INTEND TO DO...
We intend to broadcast on the original wavelength of 266 metres (1134 kilohertz) medium wave from Clacton-on-Sea, close to the original anchorage. A studio will be built on Clacton Pier and a transmitter installed. Programmes will be re-created using the original Radio London jingles and promos. Original commercials for products will be broadcast and the play list of songs will be from the 50's, 60's and 70's and feature songs like "All you need is Love" - The Beatles, "Heroes and Villains" - The Beach Boys, "San Francisco (Be sure to wear some flowers in your hair)" - Scott McKenzie and music by The Alan Price Set, Jimi Hendrix, Stevie Wonder, The Monkees, The Who, Dusty Springfield and The Supremes etc., will be featured. Three hour programmes in the original style of Radio London with News on the half hour and weather at the top of each hour. Many original "Big L" Deejays will be taking part including Keith Skues, Ian Damon and Norman St John. The broadcast will raise money for the Royal National Lifeboat Institution Charity. As we recreate "THE SOUND OF WONDERFUL RADIO LONDON - BIG L"
WHO WILL HELP US RE-CREATE THE ORIGINAL SOUND OF BIG L?
Keith Skues Keith was on board between 1966 and 1967 having joined from Radio Caroline South and Radio Luxembourg. He later joined the BBC Light Programme Service and Radio One and spent many years in Sheffield where he was a founder director of Radio Hallam. Keith currently broadcasts on BBC Radio in the Eastern Counties based in Norwich. He is author of several books including "Pop Went the Pirates", a best selling book on the subject of offshore radio.
Ian Damon Ian joined Big L in 1967 and proved to be a very popular member of the Big L deejay line-up. He later worked in TV continuity at ATV, worked at Capital Radio and in Radio Sales, he retired recently.
Paul Graham first broadcast in 1969 on BBC Radio Leicester and was greatly influenced by Radio London and Caroline, which led to him becoming involved in broadcasting. He has broadcast for stations in Great Britain and Ireland including Radio ERI and Southcoast Radio in Cork, Radio 257 in Dublin and has worked for several ILR stations including KCBC Kettering, Mellow 1557 in Colchester, Classic Gold in Peterborough, Invicta Supergold, Chiltern Radio, Q96 and Radio Caroline in the 1980's.
MORE ABOUT THE ORIGINAL RADIO LONDON 1964 - 1967
Radio London was set up by a consortium of Texan businessmen who, because of the initial success of Radio Caroline, felt that they could do better and purchased an ex-World War II minesweeper, re-named it the m.v. Galaxy and fitted it out in Miami with a powerful 50 kilowatt transmitter and aerial mast 212 feet tall (23 feet higher than Nelson's Column). By Christmas 1964 Radio London was on the air and moored just three and a half miles off Frinton-on-Sea in Essex and within weeks the station had attracted a considerable audience in the south east of England broadcasting on only 17 kilowatts. The managing director of Radio London, Mr. Philip Birch had gained a considerable amount of experience in the USA with advertising agencies and particular expertise in marketing and put together a highly successful sales team who were able to sell Radio London to many high profile companies at the time and clients like Colgate-Palmolive, Camp Coffee, News of the World, Heinz, Bulova Watches etc., all signed lucrative advertising contracts. Coupled with the sales success, the great on-air sound from the deejays and, new to the UK, the first ever package of specially written jingles from the leading Dallas based Jingle Company - PAMS. These jingles were very slick, memorable and catchy and slogans like "It's smooth sailing with the highly successful sound of Wonderful Radio London" soon caught on and many became as familiar as a top ten hit of the time. This combination of good marketing and a terrific on-air sound catapulted Radio London into the lead of all the offshore stations of the day. It became the station listened to by the music industry based in London and pop stars, and groups of the day. Everyone listened to "The Fabulous Forty Show" the weekly chart show, which was designed to be weeks ahead of the national chart used by the BBC. Radio London was finally beaten when the labour government of the day finally introduced legislation to outlaw all the offshore "pirate" radio stations. The Marine &c., Broadcasting (Offences) Act 1967 came into force at midnight on August 14th 1967. One by one all the stations closed down, only Radio Caroline North and South ships (one off the Isle of Man and the other off Frinton-on-Sea) continued in defiance of the law. Radio London closed down at 3.00pm on the Monday afternoon of the 14th. The final hour was a moving tribute in which many stars paid their last respects including, Cliff Richard, Mick Jagger, Dusty Springfield, Bruce Johnston of The Beach Boys and Ringo Starr. All the deejays were mobbed at London's Liverpool Street station when they arrived off the ship for the last time by 1500 free radio supporters who according to reports - went wild! As a result of the sixties offshore radio stations we now have Radio One and Commercial Radio in the U.K.
HOW WILL WE PAY FOR THIS EVENT?
The project is being funded by the sale of sponsorship and spot commercials to local and regional advertisers and by merchandising of original T-shirts, stickers etc., which will be available from our PIRATE RADIO SHOP and STUDIO complex on Clacton Pier. Also, we are committed to supporting the work of The Royal National Lifeboat Institution and other Charities, it is hoped that a generous donation can be made.
BENEFITS TO THE LOCAL COMMUNITY...
We believe that the many stations broadcasting in the Thames Estuary from ships and marine structures during the sixties played an important role in the development of Commercial Radio in the UK. They also brought valuable revenue to towns in Essex and Kent where they were located and supplied from. Many visitors arrived in Frinton-on-Sea, Walton-on-the-Naze and Clacton-on-Sea in order to see the ships, pleasure boat owners took hundreds of spectators to the vessels on a daily basis and much valued income was spent locally. In 1997, it is estimated that our event brought approximately 20,000 people to the area, people visited us from as far afield as the USA, Holland, Sweden, France, Belgium, Germany and many other locations from The Isle of Man, Birmingham, London, Brighton, Wales, Yorkshire and Scotland. Media coverage obtained in 1997 brought interest from Anglia Television, BBC, Meridian, CNN, Carlton, Sky, The Times, Sunday Telegraph, The East Anglian Daily Times, Kent Messenger Group and local papers, helping to put the area on the map internationally, plus we had listeners in Holland, Belgium and France who picked up our transmissions. This year we will also be broadcasting on the World Wide Web giving us limitless opportunities to further our coverage.
CAN WE HELP YOU FURTHER?
We hope the foregoing will give you as much information as possible on this event. We are eager to promote this event to its maximum potential. We will be happy to answer any further questions and clarify any points. Further up-dates are expected as our planning of this event advances and we will be happy to keep you informed.
For further information and to ensure that you receive regular up-dates please contact the following:-
EVENT ORGANISER:-
RAY ANDERSON TEL: 07774 801945
E-MAIL: INFO@BIGL.CO.UK
ADVERTISING AND SPONSORSHIP:
RAY ANDERSON TEL: 07774 80 1945
E-MAIL:SALES@BIGL.CO.UK
www.bigl.co.uk